제품 상세
Elegantly simple and precise
SimpliAmp Thermal Cycler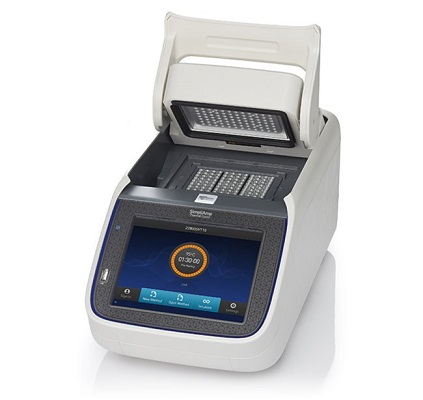 The Applied Biosystems™ SimpliAmp™ Thermal Cycler is an easy-to-use, compact, and accurate thermal cycler designed to fit every lab's essential PCR workflow. Features like a responsive color touch screen and VeriFlex temperature control technology enable simple, accurate optimization. Plus, the SimpliAmp Thermal Cycler is cloudenabled, giving you the freedom to design and securely upload your methods, monitor runs, and check instrument availability from any mobile device or desktop computer with Thermo Fisher Connect.

• Intuitive interface—large, easy-to-use color touch screen for easy programming and quick status checks
• VeriFlex blocks—three independent temperature zones for PCR optimization
• Cloud-enabled—conveniently access your instrument anytime and from anywhere with Thermo Fisher Connect
• Compact design—helps save bench space

Simple, intuitive user interface
The SimpliAmp Thermal Cycler has a large, responsive 8-inch color touch screen, making navigation of the intuitive menu options fast and efficient.



주문정보