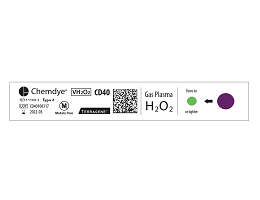 Multi-variable Indicators for Internal Use 제품소개 : VHP 및 플라즈마 멸균인디케이터-multivariable 타입의 화학적지시제. Type 4. 브 랜 드 : Terragene
제품 상세
CD40 Chemical Indicator
For monitoring Plasma or Vaporized Hydrogen Peroxide sterilization processes
Usage
Control of plasma or vaporized H202 sterilization processes.
Conditions: 6 minutes, 50 ºC, 2,3 mg/l H202.
Applicable Regulation
Designed under Quality Management Systems standards ISO 13485:2016/NS-EN ISO 13485:2016. ISO 11140-1:2014.
Product Classification
Class 1, according to risk.
Authorization
ANMAT (Argentinean National Administration of Drugs, Food and Medical Devices) PM 1614-4.
Characteristics
Type 4 Chemical Indicator.
Strips printed with indicator ink.
Size: 105 x 18 mm (approximate).
Initial color: Purple.
Final color: Green.
100 % Toxic Heavy Metals free
To interpret results visually, use the reference found in the indicator. Optionally, the readout of the chemical indicator can be done using Trazanto Automatic Quality Control and Traceability System (see instructions for use in device´s manual).
Environmental conditions during manufacture
T = 15-30 ºC, RH = 30-80 %.
Storage conditions
T = 10-30 ºC, RH = 30-80 %, keep out of direct light.
Transportation conditions
Storage conditions should be strictly followed.
Transport in closed and reinforced boxes in order to avoid damages.
Transportation of this product does not represent a risk for health.
Shelf-life
5 years.
Description of identified and/or predictable risks which could represent a risk for the product
Do not store the product near sterilizing agents.
Do not expose this product to Steam, Dry Heat or any sterilization processes other than H2O2.
Do not reuse the sterilizer until the indicator has changed into the color indicated in the product.
주문정보