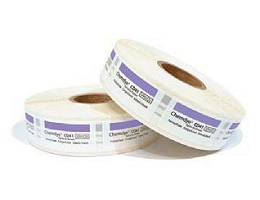 Self-adhesive Labels & Tapes for External Use 제품소개 : VHP 및 플라즈마 멸균인디케이터-라벨 타입의 화학적지시제. Type 1. 브 랜 드 : Terragene
제품 상세
Cintape® adhesive tapes and Chemdye® adhesive labels were designed to identify sterilization
packages and to distinguish between the materials that have been exposed to VH2O2 sterilization
process from those that have not been subjected to it.
Adhesive tapes and labels show a pronounced change of color when exposed to the sterilizing
agent.
CD41
CD47
CT40 (그림의 왼쪽에 있는 보라색 제품)
Advantages




• Adhesion to different types of packaging and wraps, such as cloth, paper and plastic.

• Manufactured with high-quality materials, and resistant to physical and chemical damage produced by sterilization processes.

• Easy to remove, no residues.

• Allows writing on their surface, facilitating load traceability.

• Shows a differential change of color that helps to distinguish between processed and unprocesses items.

• Made with Chemink® inks, 100% metals free.
주문정보