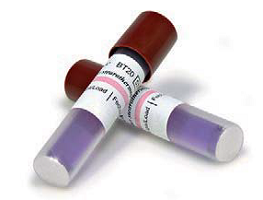 Self-contained Biological Indicator 제품소개 : 고압증기멸균용 멸균인디케이터-생물학적지시제 브 랜 드 : Terragene
제품 상세
Advantages


• A specially formulated synthetic medium allows to get results in short times. Long-term incubations do not represent an advantage.
• Cross contamination risk reduction.
• Handling and analysis cost reduction.
• Laboratory ovens are not required since culturing may be performed in incubators for biological indicators.
• Type 1 chemical indicator on label.
• Label allows cycle data recording.
Bionova® BT20 Self-Contained Biological Indicators were developed to control Steam sterilization processes.
Biological indicators contain bacterial spores inoculated on a carrier packaged within a special plastic tube. Inside the tube, there is a sealed-glass ampoule with a specially-formulated culture medium containing a pH indicator which turns to yellow when spores grow. Bionova® BT20 biological indicators produce visible results within 24 hours.
Bionova® BT20 Biological Indicators are certified for species, population, purity and resistance (D value, Z value and survival/ kill data).
This products are developed and manufactured under ISO 9001 and ISO 13485 certified systems.
The quality parameters are determined at the time of manufacturing according to ISO 11138 (Parts 1 and 3) standards.
주문정보
관련제품