제품 상세
Activo-P11 Automated Peptide Synthesizer

The Activo-P11 Peptide Synthesizer is an easy to use and affordable instrument for synthesis of very high quality peptides. The Activo-P11 is the only synthesizer available with both automated reactor heating and UV monitoring. These valuable synthesis tools allow chemists to synthesize longer and more difficult peptides and to gain more synthesis information about those peptides. For example the antimicrobial peptide Gomesin has been successfully synthesized using conventional heating

Key Features
• Any scale from 0.05 to 5.0 mmol
• Easy to use; define own protocols or use the peptide wizard software
• Performs any Fmoc or t-Boc chemistries
• Safe to use, instrument is totally enclosed
• Fully automatic with no limit to number of amino acids
• Disposable reactors and amino acid containers
• Uses commercially available resins and reagents


[User friendly software] [Heated reactor] [Efficient mixing of reactors]

High Quality Peptide
• Inert atmosphere throughout
• Precise and fast reagent delivery and washing
• Efficient inversion mixing
• Bottom filtration from disposable reactors
• Fresh amino acids in powder

Chemistry
• In situ or preactivation
• Use any coupling reagents; HBTU, HCTU, HATU, TBTU, PyBOP, DIC etc
• Use any resins; polystyrene or PEG based supports
• Synthesize any length of peptides

Ease of Use
• Very easy to use software; import the sequence, fill in quantity and resin specifications then press run
• Software generated worksheet tells the user what to prepare
• Free choice of chemistry, present and future
• Disposable reactors and amino acid containers
• 60 amino acid containers, no limit to how many can be added
• Enclosed cabinet for safe bench top use
• Easy cleave system direct from the disposable reactor
• Logfile of each synthesis
• Easy cleavage on the machine or transfer disposable reactor to the Activo-P12 Cleavage Device

Technical Support
Activotec has been supplying quality custom peptides for many years, we have unsurpassed experience in the synthesis and automation processes. The Activo-P11 is used in both our peptide production and our peptide research facilities. Activotec is totally committed to supporting its customers worldwide.

• Fast reliable service engineers and application chemists.
• Service contract options are available to suit your requirements.
• Peptide chemists are available to help with instrument application and peptide chemistry if required.
• Training is provided on site or in our facility.

Dimensions
W - 84cm or 33in D - 59cm or 23in H - 70cm or 28in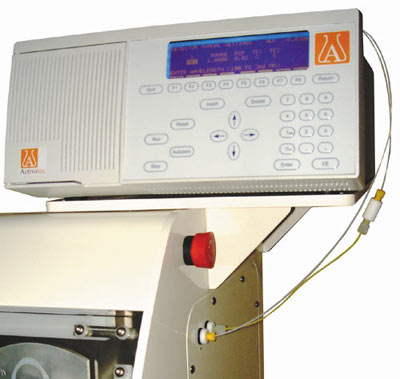 This exciting new development for the Activo-P11 Peptide Synthesizer enables precise automatic UV monitoring of the Fmoc removal during solid phase synthesis with feedback to the synthesizer software.
This allows the user to monitor the synthesis of peptides and to automatically change the deprotection and coupling protocols for each amino acid depending on the results.

The P11 is the first and only synthesizer on the market that uses on-line UV feedback to control coupling times, temperature and numbers of couplings. This increases the purity and reduces synthesis cost of all sequences without unnecessarily heating or double coupling amino acids that do not need to be.

This enables users of the P11 to synthesize longer more difficult peptides and to gather details of the conditions required to couple individual amino acids
This system works well with both DMF and NMP.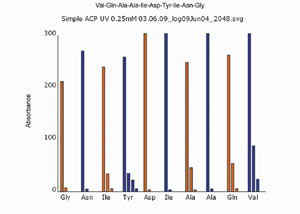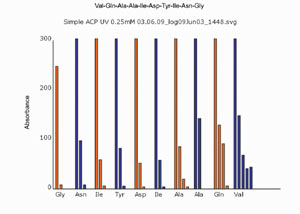 [Automatic UV Monitoring in NMP] [Automatic UV Monitoring in DMF]

A UV monitoring method has been developed on the Activo-P11 Peptide Synthesizer that monitors the Fmoc removal and extends or changes the deprotection and coupling protocols when the deprotection is slow. Feedback control automatically programmes the addition or change to steps in the protocol or pauses the synthesizer for the user to make changes.
주문정보